Team Designed, Team Tested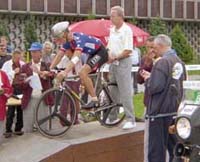 The Nimble CROSSWIND comes from a diverse team combining cycling, science, design, manufacturing, marketing, racing, and wrenching. Its test program continues to examine over 40 aspects of wheel performance. Tests range from mathematical and analytic modeling to rigorous laboratory and field trials. Wheels have been raced in nearly every type of performance road and multi-sport venue on every continent except Antarctica. These venues include road stage racing, single day road events, sprint and endurance triathlons, short and long distance duathlons, prologue and endurance time trials, track endurance, scratch racing and sprint events.
Demand First
Learning what is demanded of a wheel is the first step in learning the critical elements of its performance. The more comprehensive your understanding, the more thorough your design. What are the most critical areas of performance? Aerodynamics is the single most significant contribution to road ride performance. A careful treatment of aero drag accounts for both head-on calm condition measurements suitable to track style events, and side-on crosswind measurements suitable to open road style events. Additional performance areas include mass, because many competitive venues include the challenge of gravity, and inertia or acceleration, because quickness and handling can play a key role in competition.