Nimble Titanium Quick Release Skewer set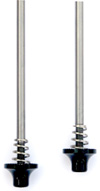 Nimble's latest titanium QR skewer set (revised 2006) features oversized titanium bolts, stainless springs, a stainless steel pivot, CNC machine hollowed aircraft alloy lever handles, and alloy pivot bearing fittings for durability. These skewers are stout, well-functioning, light-weight and secure.




Skewer weights are now 32.0 grams front and 34.8 grams rear for a total set weight of 66.8 grams.

The 2006 version has lengthened titanium rods to accommodate the more common wider aluminum alloy and titanium bicycle frame and fork drop outs. Click small images to enlarge for detail. Also see price.